Ellen O' Connell Whittet writes about ballet, literature and feminism. She teaches in the Writing Program at UC Santa Barbara. Her memoir What You Become in Flight was released in April 2020. Ellen has written for Paris Review, Buzzfeed, Vulture, The Atlantic, New York City Ballet, Allure, Teen Vogue, The Rumpus, Lenny Letter, Bustle, Catapult, Literary Hub, Salon, Post Road, Prairie Schooner, where she won the Virginia Faulkner Award, Redivider,The Nashville Review, the Harper Perennial Anthology The Moment (2012), and on the Ploughshares Blog. She has an MFA from Sarah Lawrence College.
BL: Your memoir What You Become in Flight is about your body and mental health, but it's also very much about the bodies of the women in your family and even stretches to the mental health around trauma and violence in society. I was impressed at how all of these themes moved, grew, and weaved organically throughout the book. How did you decide which moments to include and where?
EOW: One of my early edits from my editor was that I needed to include more about my family and their relationship to ballet, and once I did that, I realized they were integral to my own experience. They began to take up space in my writing they hadn't been able to fully inhabit in their own lives, so I let them become what they needed to be in order to tell my own story. I couldn't have untangled my own beliefs about myself and my womanhood from them, it turned out. The second half of the book, after my exodus from ballet, I chose the moments that shaped my ideas of efficacy and that also packed a narrative punch. These moments in which I realized, I wouldn't have been able to handle something like that when I was a teenager when all my ideas about my body, and who it belonged to, were shaped by ballet. Everything, from eating to falling in love to going to grad school, seemed important in narrativizing how it feels to radically shift my identity when I lost ballet.
BL: In What You Become in Flight, you become quite magnetized to the floor during your recovery after falling in flight. I love how over time, you literally rise up from the floor—quite the phoenix moment! I just picture you there being the "diarist" you describe yourself as being. How has your writing process evolved since then?
EOW: During the pandemic I think my writing process has become, in lots of ways, more incidental—texts to friends, lists of books I've read, ingredients I want to get for some meal. Part of this is that I had a baby during the pandemic, and part is stress, lack of creativity, and isolation. [So] I think I've reverted back to that diarist recently! Before pandemic parenthood, I was intentional and methodical about my writing. It's hard for me to focus on anything else when I'm excited about a project, so I'd write with purpose and deadlines and feverish excitement. That's how it feels when I really have something to say. I'm mulling over exactly what I have to say again, in new projects and new obsessions, and feel more dread because starting something that feels important is always intimidating. I'm grateful for this reminder that I was once a diarist, wrote a book, and am in the diarist phase again!
BL: Ballet is such a paradox; it can use and neglect the body. Regardless, it seems like you have such unconditional love for the art, as though it's a family member. Does that feel right? Are there parts of the dance you still admire and/or are there parts you protest despite your admiration?
EOW: I'm so glad you read the book that way—this was very important to me to convey, and is something I say every time I talk about ballet. Yes, I still love it! I went to a New York City Ballet performance a couple of years ago and was utterly transported, even though that company has undergone some real challenges recently and historically. Watching the ways the dancers made patterns across the floors, and the ways Balanchine defied every expectation I had for what steps or sequences would come next make me feel alert, engaged, enraptured the whole time. I find ballet moving and beautiful to this day. But I think part of loving something fully is seeing it fully, its flaws and all. And because I know ballet so intimately, have lived within its warped logic and broken free from it, I think I love it much more fully now that I don't aspire to it.
BL: This is sort of a follow-up to that last question, do ballet instructors inform students about limitations and safety in the body as with compression and tension, or is it "bend, flex, extend, etc., as much as possible"—don't ask don't tell? I only took ballet for about a year when I was five and only recall the texture of costumes and shoes.
EOW: The good, responsible instructors do, the ones who see young students as whole people with full and long lives. Unfortunately, I don't think that's always the standard of teaching. Turn out comes at the expense of hips, knees, and ankles. Pointe comes at the expense of toes and feet. Because there is a right way to do everything, that means you can only fit the ideal mold if you won the genetic jackpot. Everyone else has to force and cheat their way into positions and through steps sometimes. In my experience, even with caring teachers, there was a culture of trying to outperform other dancers to stand out. This often meant forcing extensions, forcing turnout, forcing feet to look right. And all those things meant injury that didn't always show up immediately, but would hurt a dancer down the road.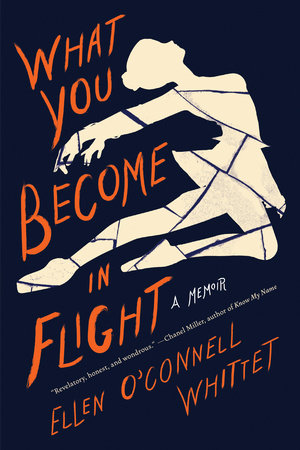 Photo from Google Images
BL: Since leaving your laces behind, have you explored other forms of physical movement?
EOW: Since I stopped dancing ballet, I've taken modern and hip hop, and find both incredible difficult and so much fun. In other genres of dance, I think it's more common to learn lots of styles, but ballet dancers often only know ballet, and look pretty clunky doing other forms of dance. Learning to tilt off-balance in modern, or a completely new vocabulary of movement in hip hop, has been a low-pressure way to feel the joy and release of dance without any expectation or ambition other than to enjoy myself. I wish I could do it more, and it's one of the things I look forward to most when the pandemic ends and I can get back in a studio.
BL: And lastly, where do you think your writing will take you after this unprecedented pandemic?
EOW: I hope it takes me into another book project, and that I can keep making sense of my own experiences through the craft. I always worry I've run out of material, but there are always more ideas. Nothing feels real until I think about how I'd write it—then I can see the connections, metaphors, and the revelations are everywhere.
Follow Ellen on Twitter @oconnellwhittet